We offer a wide range of products suited for virtually any situation. We feature medical alert systems from VRI, one of the most respected names in the industry. Our systems are compatible with both Traditional Landline-based Phone Service, newer Digital/VoIP Phone Service and even Cellular Service. Within 24-48 hours of placing your order, we will send one of our professionally trained service representatives to your home to set up your system.
Standard Personal Emergency Response System (PERS)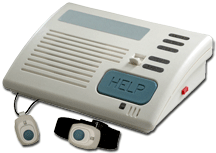 The standard emergency response system consists of a lightweight waterproof button that you wear on your wrist or around your neck and a base unit with battery back-up that connects to your phone line. In the event of an emergency a press of the button activates the base unit, which sends a signal to the monitoring center via your phone line. Please see our How It Works page for more detail.
We offer additional solutions for virtually any situation. We have a soft touch button for those that may have trouble pressing our standard Personal Help Button. We also have a line of assistive technology for people with extreme mobility issues or other problems.
Systems are available for a little more than a dollar a day!
Contact us at 1-800-888-0338 for pricing information. All systems feature:
No hidden fees, per-press charges, or expenses.
Free repair, service, maintenance and/or upgrades throughout the time you have the system.
No long-term contract.