We offer a wide range of products suited for virtually any situation. We feature medical alert systems from VRI, one of the most respected names in the industry. Our systems are compatible with both Traditional Landline-based Phone Service and newer Digital/VoIP Phone Service. Within 24-48 hours of placing your order, we will send one of our professionally trained service representatives to your home to set up your system.
Medicine Dispenser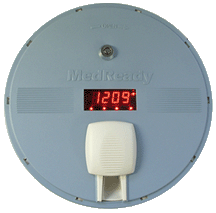 Studies have shown that the more closely patients adhere to their care plan, the healthier they will be. Mistakes with medication such as missed dosages, overdosing and confusion over what to take and when to take it can result in serious health issues. Our Medication Dispenser, coupled with a Standard Personal Emergency Response System can help alleviate these concerns by making sure the correct medications are taken at the correct time.
Our medicine dispenser is a locking pillbox that can be programmed to dispense medication up to four times per day. At preset times, the medicine dispenser will beep to alert the patient that it is time to take their medication. The patient simply slides open the door to access their medication and silence the alarm. Should the patient fail to take their medication within 30 minutes, a signal will be sent to the monitoring center through the Personal Emergency Response System. Our monitoring center will attempt to communicate with the patient to determine the situation. Emergency help can be dispatched if necessary, or if no contact is made the monitoring center will notify a designated responder for follow-up.
Contact us at 1-800-888-0338 for medicine dispenser pricing information. All systems feature:
Lifetime pricing. The monthly fee will not go up throughout the time that you have the service.
No hidden fees, per-press charges, or expenses.
Free repair, service, maintenance and/or upgrades throughout the time you have the system.
No long-term contract after an initial three month trial.