We offer a wide range of products suited for virtually any situation. We feature medical alert systems from VRI, one of the most respected names in the industry. Our systems are compatible with both Traditional Landline-based Phone Service and newer Digital/VoIP Phone Service. Within 24-48 hours of placing your order, we will send one of our professionally trained service representatives to your home to set up your system.
Lockboxes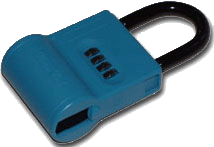 With our "Shurlok" lockboxes you can rest easy knowing that your home is secure while emergency personnel have a means to get inside. Our lockboxes feature a high quality all metal construction making it the safest, most secure lockbox on the market.
The lockbox attaches to your doorknob and houses a spare key in its heavy-duty interior. You provide us with a key and a 4-digit combination that we will use to set the lock. In the event of an emergency our monitoring center can provide local emergency services with the combination so they can get inside. No more leaving your home unlocked or forcing the emergency services to break down your door!
Lockboxes are available to puchase for $49 or lease at $5 monthly!