We offer a wide range of products suited for virtually any situation. We feature medical alert systems from VRI, one of the most respected names in the industry. Our systems are compatible with both Traditional Landline-based Phone Service and newer Digital/VoIP Phone Service. Within 24-48 hours of placing your order, we will send one of our professionally trained service representatives to your home to set up your system.
Cell-based Personal Emergency Response System (PERS)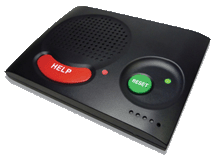 Studies have shown that many people are giving up their landline-based phone service in favor of cell phone technology. In a 2007 filing from AT&T to the FCC, the telecommunications giant claims, "Approximately 25% of households have abandoned plain old telephone service." While traditional Personal Emergency Response Systems (PERS) require the home to have a landline-based phone service, our new cell-based system is designed to give you the benefits of a PERS without the need and additional cost of a dedicated landline.
Our Cell-Based Personal Emergency Response System functions essentially the same as a standard PERS except that no landline is required at the home. It is a totally independent device and does not require an additional cell plan, nor interfere with your existing cell phone service. The system features a waterproof personal help button and the base unit with back-up battery. Status lights on the unit indicate if cell service is available to the system.
Systems are available for a little more than a dollar a day!
Contact us at 1-800-888-0338 for pricing information. All systems feature:
Lifetime pricing. The monthly fee will not go up throughout the time that you have the service.
No hidden fees, per-press charges, or expenses.
Free repair, service, maintenance and/or upgrades throughout the time you have the system.
No long-term contract after an initial three month trial.